Ruger M77 Guide Gun Bolt-Action Rifle, Ruger® designed the M77 Guide Gun® Bolt-Action Rifle for hunting large species of big game in extreme environmental conditions. The Green Mountain laminate wood stock holds up to harsh weather, and also provides a stable platform for maximum accuracy potential. The stock comes with a rubber buttpad, and buttpad spacers to properly fit the rifle to the shooter (includes three 1/2″ spacers).
The matte-finished, stainless steel barrel features a threaded muzzle with a factory installed, radial-port muzzle brake that reduces recoil significantly. The rifle also includes a dynamically-matched muzzle weight for use without the brake, and a thread protector for use without the brake or weight.
Bolt-Action Rifle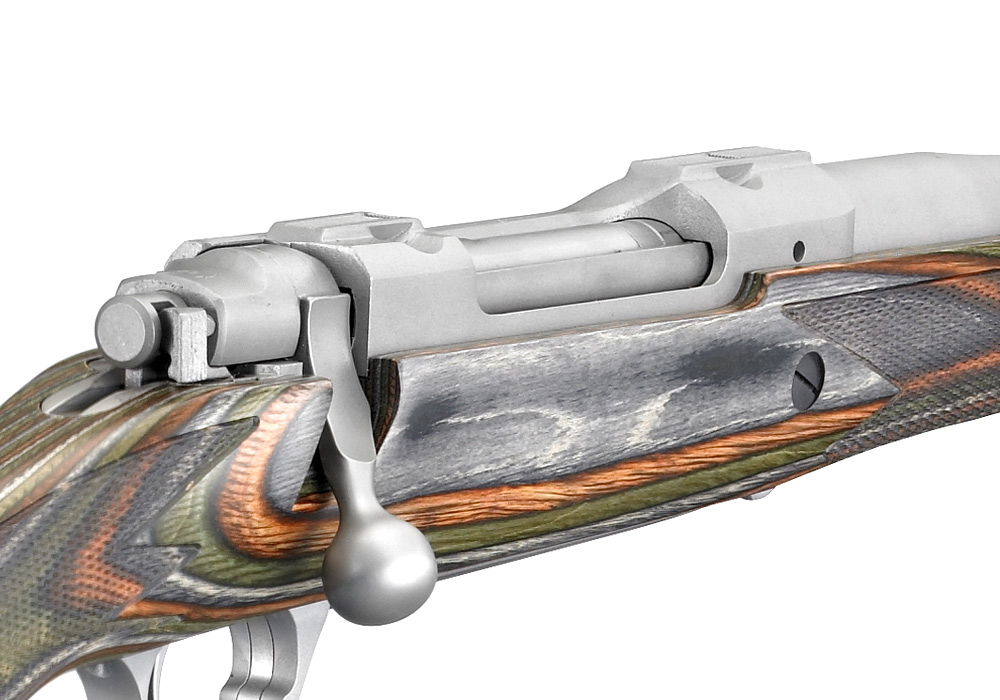 A non-folding, express-style rear sight is always up and ready, and the white bead front sight is solidly attached to the barrel with a barrel band.
The Ruger LC6™ trigger comes from the factory smooth, crisp, optimized pull weight for hunting. At the core of the M77 Guide Gun is an ultra-reliable action based on the Mauser 98, utilizing a controlled feed mechanism with a large claw extractor that takes a solid hold on the cartridge's rim, and a fixed-blade ejector. Integral scope mounts are machined directly on the steel receiver to accept Ruger scope rings (included), eliminating any chance of screwed-on bases coming loose in the field. The trigger guard and floorplate are made of stainless steel. A 3-position safety allows the shooter to load or unload the rifle with the safety engaged. The Ruger M77 Guide Gun Bolt-Action Rifle is a rugged, reliable hunting rifle that will provide generations of precision accuracy in the field. Made in USA.