Best Hunting Gun Marlin 1895 Rifle, The Marlin® 1895SBL is an ideal Lever-Action Rifle for big game hunting at close to the medium range or defending yourself against large gnarly creatures in the backcountry. The 1895SBL has a stainless steel barrel and receiver, and laminate wood stock for ultimate durability against the elements.
The barrel has Ballard-style rifling to handle all types of bullets—cast or jacketed. The full-length magazine tube holds 6 rounds of powerful .45-70 cartridges, and an enlarged lever loop allows the shooter to cycle the action with gloved hands. The Marlin 1895SBL features side ejection, which simplifies scope mounting, and the gun comes with the versatile Lever Rail that allows mounting a standard riflescope on top of the receiver, or a scout-style scope mounted farther out on the barrel.
For quick, close-range shooting the 1895SBL comes with an excellent XS ghost ring, rear aperture sight mounted to the rail and a front post with a white line up the center.
These sights are extremely rugged and do not get knocked out of alignment easily. A Pachmayr® Decelerator® recoil pad helps absorbs recoil from heavy .47-70 rounds, allowing the shooter to stay on target for fast follow-up shots. A receiver-mounted cross-bolt safety effectively blocks the hammer from hitting the firing pin.
Sling swivel studs allow for the attachment of a rifle sling for convenient carry in the field hands-free. Marlin 1895SBL is a very quick-handling Lever-Action Rifle that shoots a cartridge powerful enough to knock down any species of game in North America. The 1895SBL is built to hold up to rugged use in harsh environments. Made in the USA.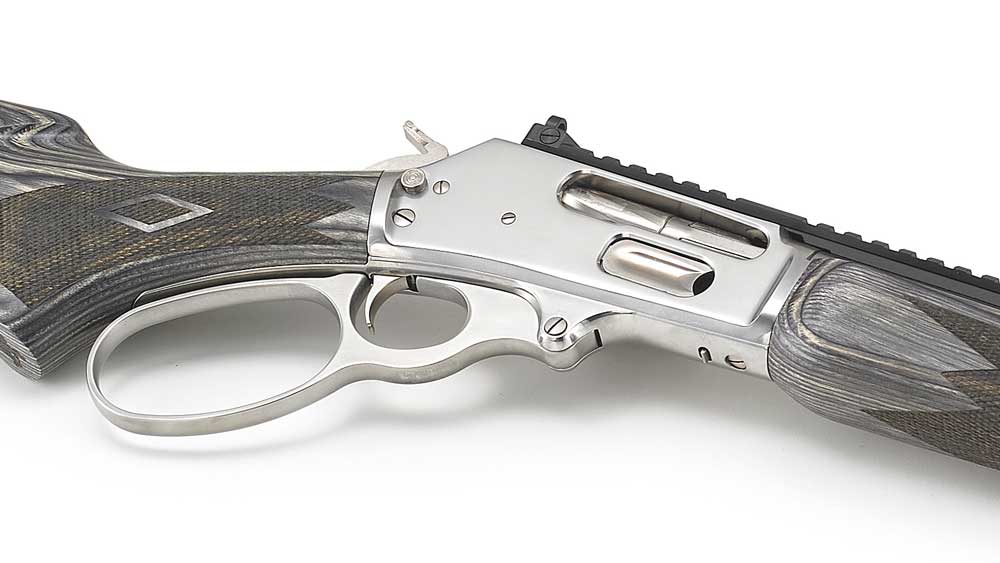 Stainless steel barrel and receiver
Laminate wood stock
Ballard style rifling
6-round magazine tube
Enlarged liver loop
Versatile scope mounting rail
XS ghost ring rear sight
Pachmayr recoil pad
Crossbolt safety